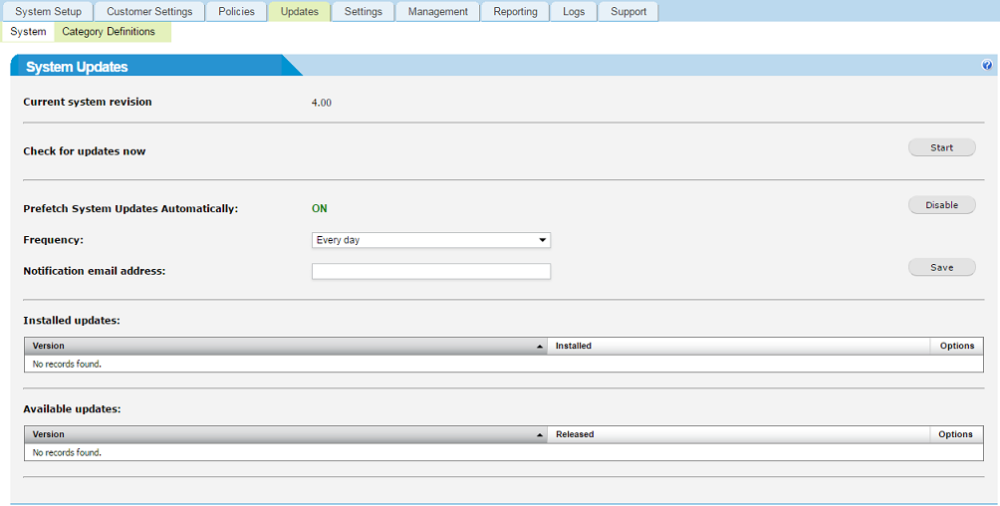 The System Updates section allows you to keep your WebTitan Cloud appliance up-to-date with the latest maintenance releases and functional enhancements that are available.
To check for available system updates, click Start in the Check for Updates Now field. A status window is displayed to inform you whether or not system updates are available.
Another method of obtaining system updates is to use the Prefetch System Updates option. Using this method, you can automatically import system updates to the patches area on the appliance on a regular basis.
To enable the prefetch method, click Enable in the Prefetch System Updates field.
To disable this method, click Disable.
To specify the schedule to which the prefetching of updates is run, select an option from the Frequency drop-down list. The options are Every hour, Every day or Every week. The default is Every day.
When the system updates are imported automatically, they are not immediately installed. Instead, the updates are displayed in the Available Updates table, from here you can install the updates manually. To receive email notification when new system updates have been imported and are ready for installation, enter an email address in the Notification email address text box.
The Installed Updates table displays the system updates that are already installed and the date when the update was installed. To view the release notes for a system update package, click

in Options.
The Available Updates table only displays system update packages with version numbers that are higher than the version of the appliance that is currently running, or update packages that are not yet applied. System update packages must be applied in order.
To install a system update package, click

.
To view the release notes for a system update package, click

.
When you install a system update package, the system automatically installs any packages with lower version numbers first, if necessary.
Feedback
Thanks for your feedback.