WebTitan Cloud identifies your organization and implements your filters based on your external IP address which will be available with each DNS request.
The Locations page allows you to specify all the network locations for your organization.

This may be one or more Static IP addresses, a range of IP addresses, Dynamic IP addresses, Dynamic hostnames or Roaming Locations such as a laptop with a roaming agent.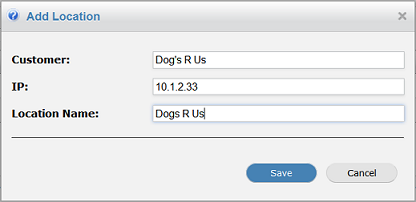 If you have a dynamic IP address, then add your dynamic IP address on the Dynamic IP tab.

In order for WebTitan Cloud to continue to identity your location when your dynamic IP address changes, you must use our Dynamic IP Agent to keep your locations settings up to date.
The Dynamic IP Agent should be downloaded and installed (with the generated location key) on at least one computer in your network.
The Dynamic IP Agent will automatically update WebTitan Cloud with the new IP address whenever the address changes.
As an alternative to using the Dynamic IP Agent, you may also use Dynamic DNS services to achieve the same result.

When the IP address associated with your Dynamic DNS hostname changes, then WebTitan Cloud will automatically discover this, and update the location IP address.
Another alternative kind of dynamic location is a Roaming Location, which is suitable for use with laptops. Use of this location type requires a Roaming Agent to be installed on the client machine and configured with the generated location key. The Roaming Agent will then automatically update WebTitan Cloud whenever the IP address changes.


Adding or deleting locations
To edit a location, click

in Options.
To delete a location, click

in Options.
Feedback
Thanks for your feedback.