The Interface Settings section determines how the WebTitan Cloud user interface is presented. The settings that you can modify are as follows.
| Entry | Description |
| --- | --- |
| Logo | The logo is the logo that is displayed at the top left side of every screen. |
| Upload New Logo | To change the logo, click Browse to select a new image file for the logo. Click Save to display the new logo in the user interface. |
| Set Page Title | Change the title displayed in the browser tab from WebTitan Cloud. |
| Choose Color Scheme | Change all the UI colour scheme colors. Selecting Choose will bring up a dialog allowing you to each UI component to whatever color you want. Click Reset to revert any changes back to the original. |
| UI Timeout Period | The period of inactivity in the user interface after which the user is logged out of WebTitan Cloud. Default is 30. |
| Reset to Defaults | To reset the interface settings described above to the default settings that are included with the appliance, click Reset. |
Below is an example of a new Color Scheme, with every change made a preview area below is generated showing your new scheme. These changes will not be saved until you click Save.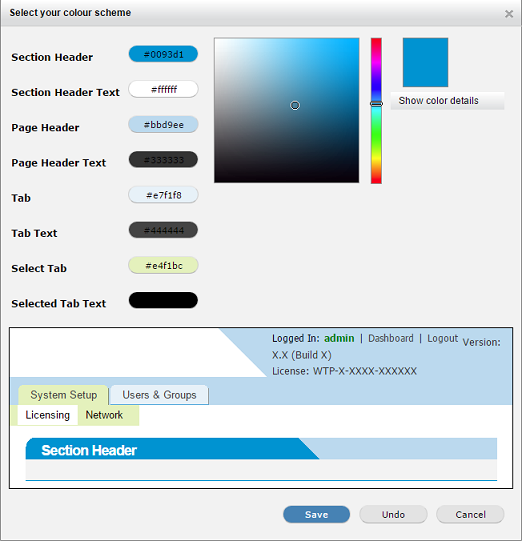 The Access Denied Page section allows you to customize the display page that is presented if users try to access a page that they are not permitted to view.

You can do this by modifying the following fields.
| Entry | Description |
| --- | --- |
| Title | This is the heading of your access denied page. |
| Access Denied Message | Provide a brief message to users as to why they are receiving this page. The system will also provide a reason for their request been blocked immediately after this text. |
| Additional Information | Specify any additional information that you may wish to present, such as links to your corporate usage policy etc. |
Click Save to save the changes.
Click Reset to reset the access denied page settings to the factory default. Click Preview to preview the access denied page.
Click Advanced to modify the CSS stylesheet for the access denied page to change the look and feel of the login page and/or brand it with your company logo.
Feedback
Thanks for your feedback.