The accounts section contains a list of the customers who are currently configured on the WebTitan Cloud appliance.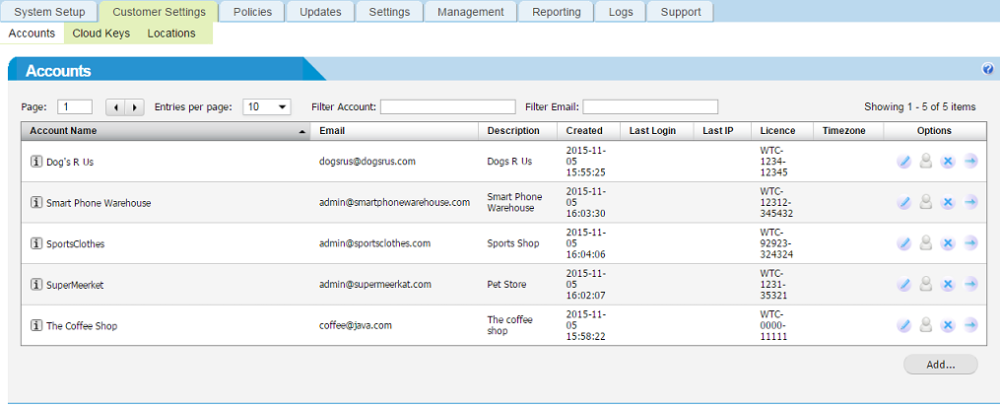 Each Account has single, multiple or a range of IP addresses which associate that IP address to that Account.
You can filter by Accounts by entering an account name, or part of the name in the Filter Account field and pressing enter, or you can filter by entering an email address, or part of an email address in the Filter email field, and pressing enter.
The options icons on the right of each customer account allow you to control all aspects of the customer account.



Allows you to edit the customer account details, email, time zone, admin password and license key.


Allows you to impersonate this particular Customer's admin user and brings you into their account with the same view and privileges as they have. Once impersonating, the top right of the UI shows the customer you are currently impersonating, with a link to Stop impersonating when you are finished.

For information on configuring customer settings, please refer to the Customer Administrator's guide.


Allows you to delete the Customer's account information: policy, internal users, domains, ip addresses, cloud keys, history and reporting data, will all be permanently deleted.


Allows you to edit the policy of a Customer, the Edit Account dialog is displayed.
The entries on the Add Account and Edit Account dialogs are as follows:
Entry
Description
Account Name
The name of the Account.
Email
The email associated with that Account. This Email address is then used to log into the interface.
Change License
Tick this box to change the license string.
Description
A brief description of the Account, for example, the company name.
Change Password
Tick this box to change the password.
Password
The password used to log into this account into the interface.
IP Addresses
The IP Addresses associated with this account. In order to be accepted by the appliance, Every IP address must be paired with an account or it will be rejected. Every account must have at least one IP Address assigned to it. This table will accept single,

CIDR

and ranges of IP Addresses (e.g.: 10.1.2.3-10.1.9.9).
You can review the list of accepted IP addresses under System Setup -> Network ->

DNS

Settings
Click Save to save changes to the Accounts dialog, or click Cancel to ignore the changes and close the dialog.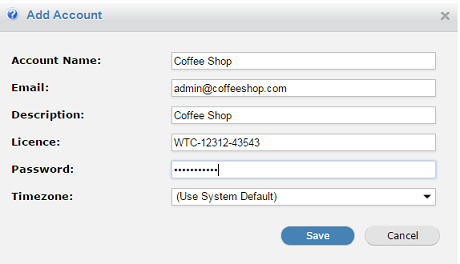 Feedback
Thanks for your feedback.